After the dress, venue, cake, flowers, composition of the wedding party, and dreaded table plans have all been put to their anxious beds, you probably won't find an overabundance of time and energy to direct towards a few important details: namely the finishing touches to the groom and his party.
This is where we're uniquely poised to help; this post has been put together with the express intention of de-stressing your preparations. Forgotten about the Father of the Bride? We can cover that. Need something that ushers will actually thank you for? We can sort you out. Want to coordinate your cufflinks and pocket squares with bridesmaids dresses? Consider it done - provided the bride can settle on a colour.


The Groom
Brides traditionally present their grooms with a gift prior to the big event, and many have opted for Dalvey Compasses, with their symbolic resonance of guidance afforded by a true north — or Pocket Watches, with their implicit allusion to standing the test of time. Both are ideally suited to being personalised with a special message, and a good proportion of the pocket watches and compasses we engrave in our factory leave the building with an enduring and carefully considered sentiment.
Grand Voyager Compass | Compact Flask | Pocket Watch & Albert
It's probably safe to say that a groom will want to look his best on the big day, and no doubt a suit's been arranged, but accessories are often overlooked until the eleventh hour. For mnemonic simplicity I recommend scanning from the feet up. Socks? Belt? Handkerchief? Cufflinks? Pocket square? Tie? Sunglasses?

Best Man
He's given you alcohol poisoning and some blackmail-worthy photographs of a person resembling yourself on the Stag Night. He's about to roast you in a speech delivered to your closest friends and family members. Why wouldn't you want to get him something special?
Really, your Best Man will be backing you up and helping you throughout the day. He'll be commanding the ushers/groomsmen, and doing his best to tackle the last-minute logistical mishaps that are bound to arise. It's a privileged position, and one that most guys take pretty seriously. It's also a position befitting an appropriate level of gratitude from the groom. A wrist watch makes an ideal Best Man's gift: at once making him think twice about the rudest passages in his speech, and assisting in his efforts to keep everything running on time.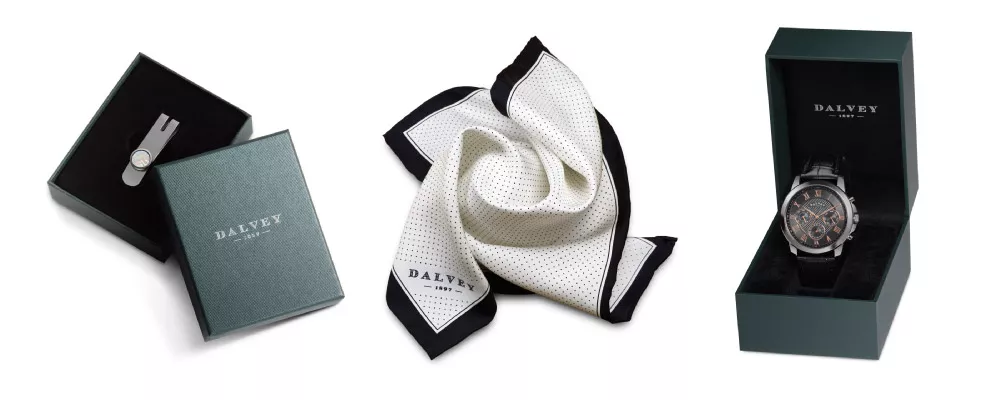 Torque Money Clip | Pocket Square | Torque Wrist Watch

Ushers / Groomsmen
Your retinue of assistants will be invaluable in shepherding the crowd. They're the guys who will, perhaps forcibly, urge Uncle Fred to discontinue the diatribe he's delivering to an unsuspecting fellow guest and move towards his table in time for the speeches.
To guarantee an indomitable esprit de corps, I recommend a Dalvey flask for each - engraved with their respective initials. A badge of honour, a recognition of their efforts, an emergency tonic in times of heightened stress or boredom. There's also nothing quite like the bonding experience of huddling around a tremulous bottle of Single Malt while each man loads his flask - preparing for any eventuality.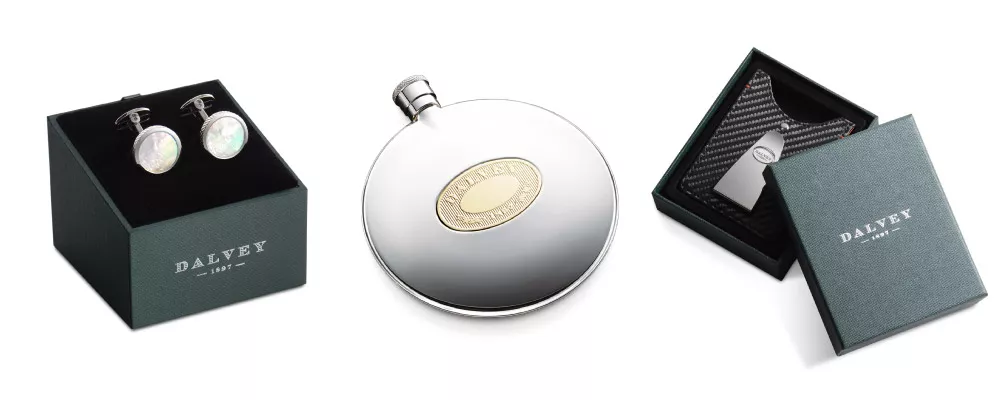 Torque Cufflinks | Classic Flask | Card Case & Money Clip
Other ideas sure to be appreciated are money clips, card-holder-money-clips, cufflinks, or pocket watches (the open face style works well for ushers). Whatever you go for, try to pick something that'll endure, and ideally something that can be engraved with respective initials, or the date of the big day.

The Father of The Bride
Easy to forget though not to be forgotten under any circumstances, the Father of the Bride needs to be kept on-side. He's giving you your bride - it only seems fair to give him something he'll appreciate. My own recommendations are: a Skeletal Pocket Watch with Stand, an impressive pair of cufflinks, or a Classic Flask.
Voyager Clock | Skeletal Pocket Watch | Desk Globe
I hope the above proves helpful! If you're in doubt, re-thinking your colours, or descending into the murky depths of panic, give us a call on +44 1349 884 111, or write to us at customercare@dalvey.com. We'll do our best to set you right.
All the best,
Neil