We launched the original Dalvey Compass twenty years ago. Curiously, the design wasn't so much inspired by pocket watch fob cases as by our original telescopic cup case - which in turn owed many of its elements to the iconic Voyager Clock.
Since its introduction the Dalvey Compass has been popular around the world, and undergone several iterations. Over the years we've had the privilege of engraving thousands of compasses with beautiful (and occasionally very funny) messages. Widely regarded as a perfect symbolic gift, people have given Dalvey Compasses on significant occasions - major junctures such as graduations, weddings, or really any occasion in which the recipient is making a positive move forwards in life.
The gesture is a meaningful one. Often the inscriptions we engrave will contain injunctions to follow the right path, or to remember to draw on the support of a distant loved one.
Mindful of our customers' appreciation of the range, we've been working for some time to introduce what we consider to be the finest compasses we've ever made. We're now very excited to be launching what's been dubbed, internally, "the apotheosis of the Dalvey Compass".
Voyager Compass | Black & Orange
Drawing on design skills and manufacturing techniques developed over years of work in areas as diverse as wrist and pocket watches, cufflinks, and engineered desk accessories, we've combined vibrant, intricate, luxury-watch-standard dials with mirror-polished, precision-engineered stainless steel casings and liquid-filled compasses to produce an exceptional collection of unique and varied characters.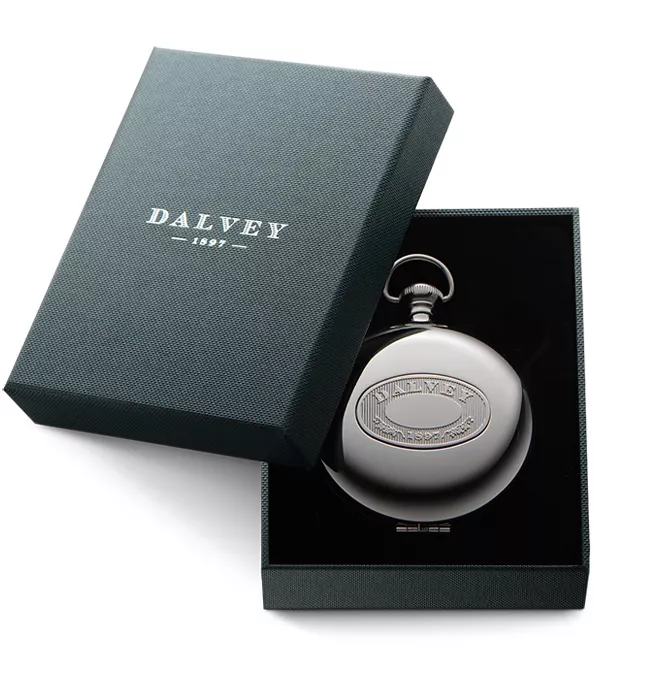 The original and classic Voyager Compass, with its unique pull-pommel catch, tactile shape, and iconic design, has been updated with five different variants:
White & Red | Black & Orange | Turquoise | White MOP | Blue MOP
A cool, classic white ground that has a rich, satin appeal, accented by the traditional red-tipped needle and subtle details at the cardinal points.
An intricately textured black dial with mirror-polished detailing in the compass rose and increments, and echoes of the striking orange needle in subtle details at the cardinal points. A stylish, masculine piece that draws on a signature Dalvey colour combination (see our Salamander Torque wristwatch, or Continental Wallet).
A vibrant, richly coloured turquoise that both recalls and electrifies classic shades such as duck-egg and verdigris in a captivating finish.
A combination of intricate texturing, iridescent white mother-of-pearl, and mirror-polished detailing in the compass rose and increments - with a lustrous blue-tipped needle and cardinal increments.
A striking blue mother-of-pearl that's like a captured storm: vibrant, moody, tempestuous and beautiful, articulated with a naval-looking gold needle.
Grand Voyager Compass | White Mother-of-pearl & Blue
At the real pinnacle of the range are the Grand Voyagers, featuring their characteristic deep-engraved cases and half-hunter-style windowed coverings.
Dalvey Flask with Compass | Blue Mother-of-pearl & Gold
Finally, we've updated the Dalvey Flask with Compass - a popular style that's an exceptional gift (often bought for grooms, best men, or ushers - an ideal wedding gift), and a pleasing combination of two of our most iconic designs.
We're excited about this launch, and can't wait to hear our customers' feedback. Please don't hesitate to get in touch to let us know which styles are your favourites, or to get some advice on the range and the suitability of different styles for different occassions - at customercare@dalvey.com, over the phone (+44 1349 884111), or via Instagram, Facebook, or Twitter.
All the best
Neil