Since the launch of our first card-holder-money-clip - or "CMC" - almost 20 years ago, we've been committed to providing a slimmed-down alternative to the conventional wallet. Combining two of our core design materials - precision engineered stainless steel, and leather - our card-holder-money-clip designs offer compact, functionally effective alternatives to the classic bill-fold wallet, in a variety of different formats.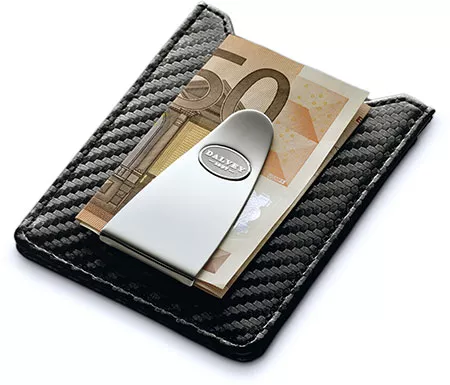 Credit Card Case & Money Clip / Carbon Fibre
The classic Dalvey "CMC" remains our most popular model. We often have customers getting in touch to say how they swear by the product, and have been enthusiastically using one for years (if any of you Dalvey evangelists are reading this, thanks for getting in touch!) The CMC is elegant and contemporary; it's highly compact, surprisingly capacious, and, as with all our money clips, engravable.
I used one myself for many years, before fairly recently switching to the Insignia…
Insignia Wallet / Black Carbon Fibre & Orange
The Insignia, while being slightly larger than a classic CMC, is much slimmer than a conventional wallet. It has a gratifying flip-out action, the deployment of which is reminiscent of the nonchalant presentation of those badges of law-enforcing officialdom so often seen in movies. It's a fun thing to use, and the sober and exuberant combination of vibrant interiors with richly textured carbon fibre and Caviar leather exteriors exemplifies an approach to design that can be seen in instances across the Dalvey range (take, for instance, suit jackets, which combine dignified suiting fabrics with striking interior linings).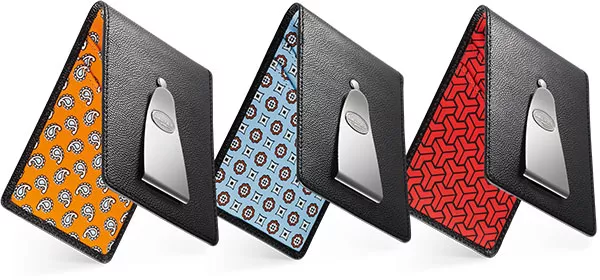 Orange Paisley | Blue Madder | Red Geometric

The Continental is arguably more formal or classic, having something of the jacket wallet about its portrait orientation. Our initial range combined burgundy, navy and black exteriors, drawing inspiration from the world's passports (black, incidentally, is reserved for diplomatic passports). We've since added a range of both Continentals and Insignias that feature black Caviar exteriors and vibrantly printed interior leathers.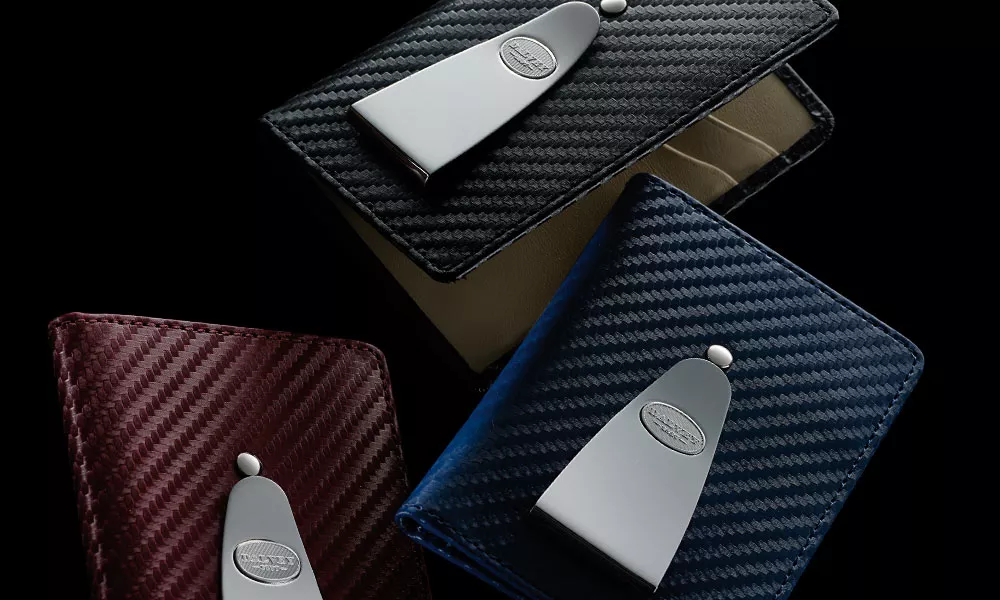 Most compact of all - and perfect for going out - the Nocturna money clip holds notes and a single card in an extremely compact design incorporating mirror-polished stainless steel and carbon fibre leather.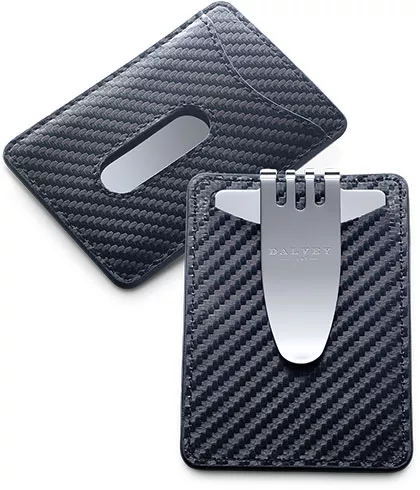 Nocturna Money Clip / Black Carbon Fibre
If you're not a convert to the card-holder-money-clip, I encourage you to try one: I'm sure you won't regret it. This is an important product area for us, and we always enjoy developing new concepts, so keep an eye out for what comes next.
All the best,
Neil